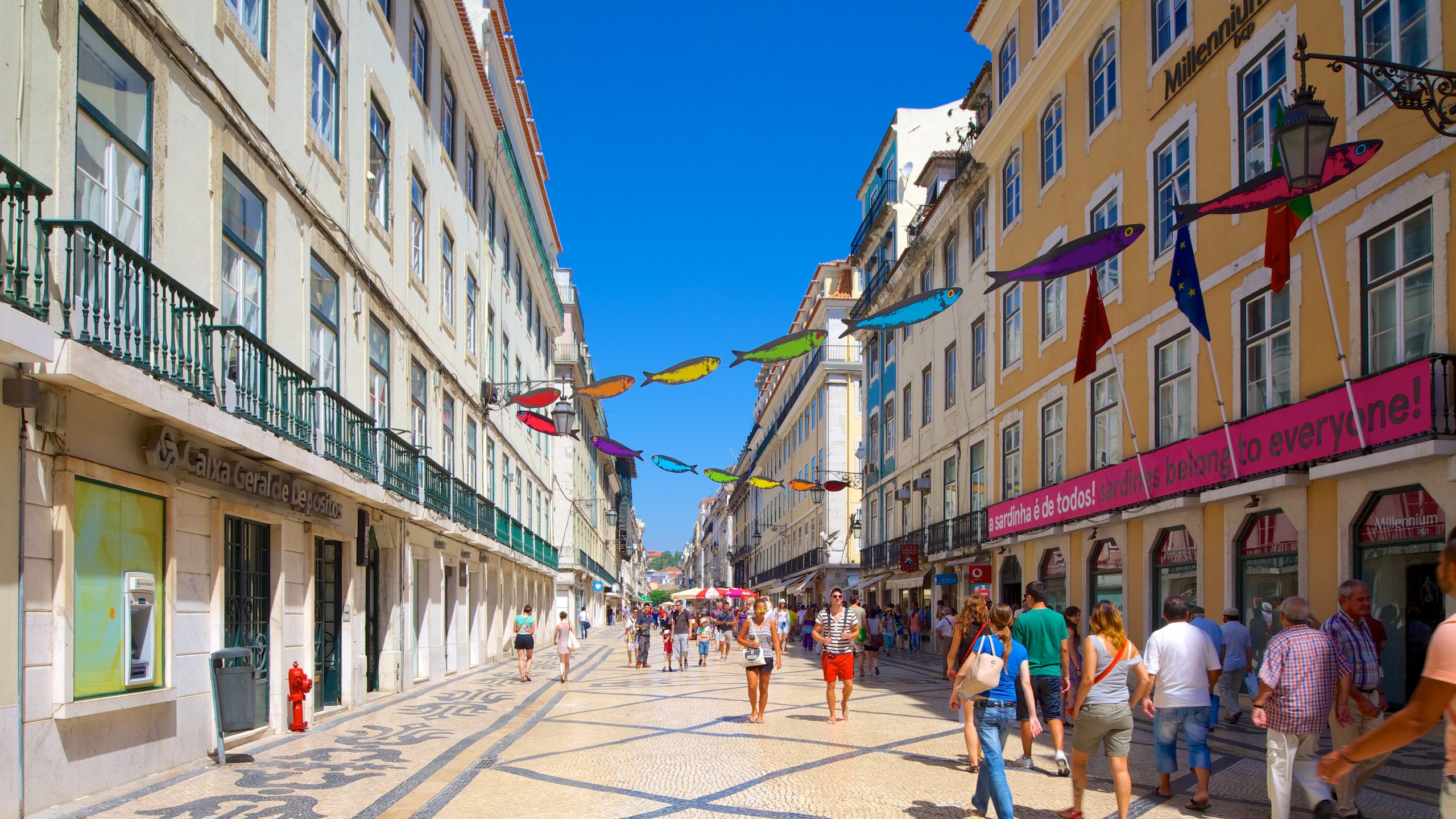 Search over 1 million properties and 550 airlines worldwide
Free cancellation on most hotels. Because flexibility matters.
Lowest nightly price found within the past 24 hours based on a 1 night stay for 2 adults. Prices and availability subject to change. Additional terms may apply.
Where to stay in Lisbon District
Lisbon Old Town

4 out of top 10 points of interest in this area

4/5Very Good!(49 area reviews)

Discover views over the old town from hilltop Graça, Moorish history in Alfama, bustling downtown Baixa, bohemian Chiado and nightlife in Bairro Alto. 

Discover this district of boutiques, bookshops and charming cafés that was once a hub for Lisbon's writers and intellectuals.

Alfama

2 out of top 10 points of interest in this area

4.5/5Wonderful!(22 area reviews)

Explore Moorish castles and medieval alleyways in Lisbon's oldest district before an evening of traditional live music at an authentic Fado bar.

Belem

1 out of top 10 points of interest in this area

4.5/5Wonderful!(4 area reviews)

In this Portuguese city, travel back to times of global discovery. Tour this historic launch point for explorers seeking distant riches. 
Accommodation in Lisbon District
Enjoy a trip to Lisbon District
Stuff your suitcase and prepare for new adventures! When you use Expedia.co.nz to reserve a room at any of the hotels, motels, or resorts in Lisbon District, Portugal, you'll save time and money. Our massive selection of over 9079 accommodation options makes it simple for you to find incredible deals on local hotel options, whenever the urge to travel strikes.
Save a bundle with our packages
Besides our unbeatable rates on rooms, you can keep even more of your cash and streamline your plans by combining your Lisbon District accommodation with your plane ticket. You'll score the best possible prices when you bundle your travel arrangements into one package, and be able to hit the ground running as soon as you arrive.
Sign up for special offers
At Expedia, we don't just offer outstanding deals on our trips to Lisbon District, Portugal. We also give you a range of offers to help you plan a cost-effective trip, no matter where you're going. Not only will you find a variety of incredible holidays on Expedia.co.nz, but if you see a better rate elsewhere, we'll match the deal or provide you with an equally attractive alternative.
Read in-depth reviews and take virtual tours
Right here on Expedia.co.nz, you'll find trusted hotel reviews written by travellers who've been to the hotels you're considering, so you can find out exactly what to expect before you book. Our ever-expanding collection of reviews provides you the top tips and inside information you need to have the Lisbon District hotel of your dreams. You can even look at extensive photo galleries and take virtual tours to see it all for yourself.
Upgrade your trip with exclusive VIP access
Sign up for an Expedia.co.nz account and you'll gain access to the most competitive Lisbon District hotel deals. Plus, when you become a member of our exclusive Expedia Rewards VIP program, we'll offer you even more specials and extras to help you enjoy your stay in Lisbon District. From free drinks to discount spa treatments, our VIP options ensure you'll have a first-class stay.
Concerned about cancellation fees? Don't be.
With Expedia.co.nz, you can reserve your room now and settle the bill later at thousands of select hotels. So if you've chosen the ideal accommodation, but aren't yet ready to pay, it's no problem at all. And if you need to change your arrangements for whatever reason, you can update your plans without being charged any cancellation fees by Expedia.co.nz.
Book your dream holiday today
Why wait another moment to book cheap hotels in Lisbon District, Portugal NZ$40? Start searching for the ideal accommodation right now, and you'll find the perfect choice in minutes.
Frequently asked questions
Where is the best place to stay in Lisbon District?
If I need to cancel my hotel reservation in Lisbon District, will I receive a refund?

Yes! Most hotel room reservations are fully refundable as long as you cancel before the accommodation's cancellation deadline, which is usually within 24-48 hours of your arrival date. If you booked a non-refundable reservation, it may still be possible to cancel it and get a refund within a 24-hour period of your booking. Enter dates and click on "Search", then you can filter by "free cancellation" to review the best deals in Lisbon District.
What's the best place to stay on a budget in Lisbon District?
What's the best hotel for a family holiday in Lisbon District?
What's the best place to stay for a romantic holiday in Lisbon District?
What is the favourite LGBTQ-friendly hotel in Lisbon District?

Camarao

is a top LGBTQ-friendly hotel that features a bar and parking.

My Lisbon Rooms

is another good choice for your holiday.
What are some hotels with pools in Lisbon District?
What is the best spa hotel in Lisbon District?
How is it to stay in Lisbon District?

History buffs will enjoy exploring Lisbon District, and visitors give high marks for the fascinating museums, renowned art and shopping. Tourists who journey to this urban city can discover its monuments, architecture and cathedrals. Top sights in the city include Se, Rossio Square and Castle of Sao Jorge. In Lisbon District, there are 8698 hotels and other accommodation options to choose from.
What are the top places to visit in Lisbon District?

Known for its museums and art, cultural venues include Gulbenkian Museum, Sintra National Palace and Fado in Chiado. Attractions such as Lisbon Zoo, Lisbon Oceanarium and Fado Museum are fun for children of all ages. Notable for its historic sites, landmarks like Castle of Sao Jorge, Se and Queluz National Palace are not to be missed.
What's the best way to get around Lisbon District?

Walk to nearby metro stations such as Praça da Figueira Stop, Rossio Station (Green) and Baixa-Chiado Station. If you'd like to explore around the area, consider renting a car to explore more sights.
What's the seasonal weather in Lisbon District?

The hottest months are usually August and July, with an average temperature of 21°C, while the coldest months are January and February, with an average of 11°C. Average annual precipitation for Lisbon District is 704 inches.